Stanislav "Kily" Kropilák (*10. června 1955)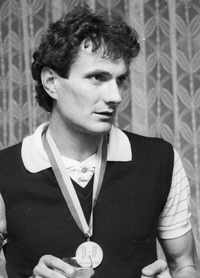 Resumé:
Stanislav Kropilák se narodil 10. června 1955 v Kremnici na Slovensku (dříve Československo). Je vysoký 2,08 m a hrál na pozici pivota. Vrcholový basketbal hrál v nejvyšší basketbalové soutěži Československa, zahraniční soutěže pak v Belgii a Lucembursku.
Byl dlouholetým úspěšným reprezentantem a pětinásobným mistrem Československa. Zúčastnil se dvou Olympijských her (1976 a 1980), hrál na dvou Mistrovství světa (1978 a 1982) a sedmkrát na Mistrovství Evropy (v letech 1975 až 1987), kde jednou získal 2.místo a dvakrát 3.místo.
Kariéra:
Středoškolské studium absolvoval na Střední průmyslové škole grafické a úspěšně absolvoval Právnickou fakultu Univerzity Komenského v Bratislavě (Slovensko). V současnosti je funkcionářem basketbalového klubu Inter Slovnaft a působil i na slovenské politické scéně. Přezdívku "Kily" získal Kropilák pro svoji vášeň v lyžování, a po v té době populárním francouzském lyžaři Jean Claude-Killym.
Svůj talent projevil již v juniorské kategorii, když například v roce 1974 si zahrál celkem 6x ve výběru juniorů Evropy. Do roku 1976 hrál za klub Slávia SVŠT Bratislava a v sezoně 1975 - 76 po vzájemné dohodě klubů spojil svůj další basketbalový osud spolu s trenérem Kazimírem Klementisem a dalšími hráči vstupem do dalšího bratislavského týmu Inter Bratislava. Sestava Kropilák, Kotleba, Sedlák, Rajniak, Halahija, Padrta, Bogdálek, Hagara, Plesník, Mozola, Hlavaj a Mašura pod vedením trenéra Klementise obsadila 4.místo, v sezoně 1976 - 77 to již bylo místo třetí a byly tak položeny základy k zisku čtyř titulů mistra Československa (ČSSR) Interu v letech 1978 - 79, 1979 - 80, 1982 - 83 a 1984 - 85. První titul však již celek ve složení Kropilák, Padrta, Kotleba, Rajniak, Bojanovský, Sedlák, Mašura, Plesník, Hagara, Považanec, Kevenský z trenérského postu vedl Rudolf Stanček. Vojenskou prezenční službu absolvoval "Kily" v Rudé hvězdě Pardubice a taky jeho zásluhou se po finálové výhře 2 : 1 na zápasy nad celkem z Ostravy (101-88, 71-74, 63-51) těšil v sezoně 1983 - 84 z již svého čtvrtého mistrovského titulu z celkových pěti, které za svoji bohatou hráčskou kariéru získal. V historické tabulce SUPERSTŘELCŮ československé a české ligy koncem roku 2008 zaujímal 23.místo s 6 505 dosaženými body.
Po působení v československé nejvyšší lize odehrál 9 sezon v Belgii za tým CSP Fleurus Brusel a 2 roky v Lucembursku.
Byl dlouholetým basketbalovým reprezentantem. Hrál na Letních olympijských hrách v roce 1976 (Montreal - 6.místo) a v roce 1980 (Moskvě - 9.místo).
Dvakrát si zahrál na Mistrovství světa, v roce 1978 na Filipínách skončil reprezentační tým Československa - samozřejmě, že s Kropilákem v sestavě - na 9.místě a Kilyho spoluhráč Kamil Brabenec slavil individuální úspěch, stal se nejlepším střelcem turnaje s průměrem 26,8 bodů na zápas. V roce 1982 se opět světový šampionát konal mimo Evropu, konkrétně na latinskoamerickém kontinentu v Kolumbii a československý tým si pohoršil o jedno místo, skončil na celkovém 10. místě.
O to větších úspěchů se dočkala reprezentace, i s Kropilákem v sestavě, na Mistrovství Evropy, kde se probojovala do závěrečných bojů o evropský primát celkem 7x v řadě (1975 - 87) a vytěžila jedno velmi pěkné 2. místo (Německo - 1985), když ve finále ji porazilo družstvo Sovětského svazu poměrem 89 : 120 a 2x se umístila na bronzovém stupínku. V Belgii v září 1977 porazili v zápase o třetí místo Itálii 91 : 81 a v domácím prostředí v roce 1981 porazili Španělsko 101 : 90 a Kily byl v tomto zápase s 25 body třetím nejlepším střelcem po K. Brabencovi a Španělovi Sibiliovi (oba 28 bodů). Individuálně ceněného úspěchu dosáhl na ME 1983, v utkání s Řeckem nastřílel 35 bodů a tím dosáhl svého maxima na zápas v rámci finalových bojů Eurobasketu a v samotném turnaji byl hodnocen jako třetí nejlepší střelec s průměrem 21,3 bodů.
Trenér tehdejší reprezentace Pavel Petera v souvislosti s úspěchem na ME 1985 se o Stanislavu Kropilákovi vyjádřil takto - " Byl to klíčový hráč a kapitán mužstva. Sice trochu subtilní, ale velice kreativní, ohromně pohyblivý, skvělý ve hře jeden na jednoho s překvapivými způsoby zakončení, výborný střelec i obránce. S míčem byl doslova kouzelník, soupeř nikdy nevěděl, co od něj čekat. Proti Jugoslávii 22, se Španělskem 15 bodů. Miláček publika kdekoli na světě. Za jiného režimu by byl patrně velkou hvězdou v evropských velkoklubech i v NBA." - citace z bulletinu BK Nymburk.
Za reprezentaci si Kily zapsal celkem 368 startů.
Ocenění:
5x Nejlepší basketbalista roku Československa (1978 - 80, 1981 - 83 a 1984 - 85)
10x Nejlepší basketbalista roku Slovenska (1975 - 83)
v prosinci 2000 vyhlášen Nejlepším slovenským basketbalistou století
15x hrál za výběr Evropy
6 505 bodů v čs. nejvyšší soutěži (k 31.12.2008 celkové 23.místo v historické tabulce všech hráčů federální ligy)
Klubové úspěchy:
5x Mistr republiky (1978 - 80, 1982 - 83 a 1984 - 85 s Interem Bratislava a 1983 - 84 v RH Pardubice)
Reprezentační starty:
368 reprezentačních startů
2x účast na LOH (1976 - Montreal - celkové 6. místo, 1980 - Moskva - 9. místo)
2x účast na MS (1978 - Filipíny - 9. místo, 1982 - Kolumbia - 10. místo)
7x účast na závěrečném turnaji ME (1975 - Jugoslávie - 6. místo, 1977 - Belgie - 3. místo, 1979 - Itálie - 4. místo, 1981 - Československo - 3. místo, 1983 - Francie - 10. místo, 1985 - Německo - 2. místo a 1987 - Řecko - 8. místo)
Statistiky
EUROBASKET (Mistrovství Evropy)

Rok konání

Země konání

Zápasy

Body

1975

Jugoslávie

7

9,7

1977

Belgie

7

13,6

1979

Itálie

8

11,1

1981

Československo

9

13,8

1983

Francie

7

21,3

1985

Německo

8

15,3

1987

Řecko

8

14,8
Poznámka: údaje uvádějí průměr na zápas